Memorial Day a Time to Reflect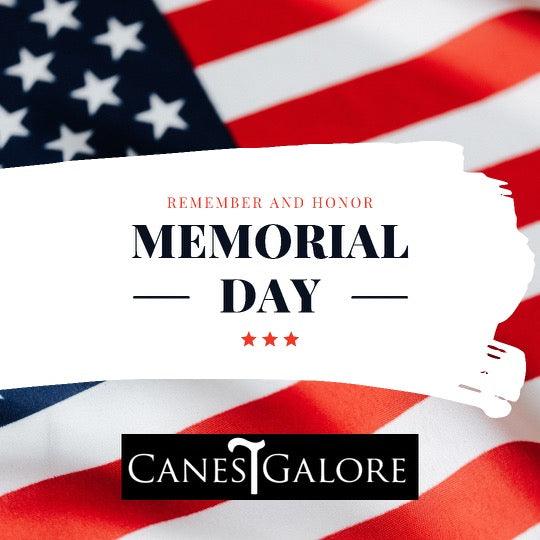 Did you know that Chris, the small business owner of Canes Galore, is a Retired US Army Green Beret who deployed--and came home-- thirteen times after completing combat missions for Operation Iraqi Freedom and Operation Enduring Freedom in Afghanistan? 
On Memorial Day, we Americans honor those soldiers who did not come home.
Some Memorial Day Facts:
 - The custom of decorating soldier's graves in the US began during the Civil War, where 620,000 died (more than all other US wars combined).
 - Memorial Day was originally known as Decoration Day.
 - It became a Federal holiday in 1971, and the date was changed to the last Monday in May.
 - Some people wear a red poppy on Memorial Day (a tribute linked to the poem, "In Flander's Field").
 - Parades take place on Memorial Day in larger US Cities: Chicago, New York, Washington, D.C.
 - Americans are encouraged to observe a Moment of Remembrance at 3 pm local time.
Your Memorial Day holiday plan may be for day of fun and relaxation; but we hope you'll take a moment to reflect on the sacrifice of the men and women who gave their lives for our precious freedom. 
Perhaps you'd like to honor a loved one's service with a patriotic cane? Check out Canes Galore's assortment of canes, walking sticks and flask sticks representing veterans, military branches, the US Flag, and more here.
Have a restful and reflective Memorial Day, and thank you for your support and celebration of Veterans.
-Written by Chris' mom - a huge supporter of Veterans past and present.